Unique Graduation Bouquets to Brighten Up the Special Day!
Graduation is the most momentous occasion for students, and it is a time for celebration. All the graduates are going to step away from a major chapter in their lives, and as parents are going to have a great relief. Graduation day is important because it is a rite of passage to so many people, showing that they did it, they worked for something and it finally paid off. However, the COVID 19 pandemic has been one of the major challenges in 2020 for graduates to participate in the usual celebrations and traditions including in-person commencement ceremonies, graduation trips, and parties with friends and family. But hey, no graduation ceremonies does not keep us away from sending graduation gift to our hard-working graduates!
Just like other significant life events, flower bouquet has been the most common option that comes across our mind when choosing for a graduation gift.  But of course, most will still be filled with joy and even surprise when receiving a bouquet of fresh and beautifully wrapped flowers. Finding a perfect graduation bouquet is not an easy job and here are some unique bouquet gift suggestions that are bound to put a broad smile on their face, and you will receive a big hug in return!
1. An Epic Snack Bouquet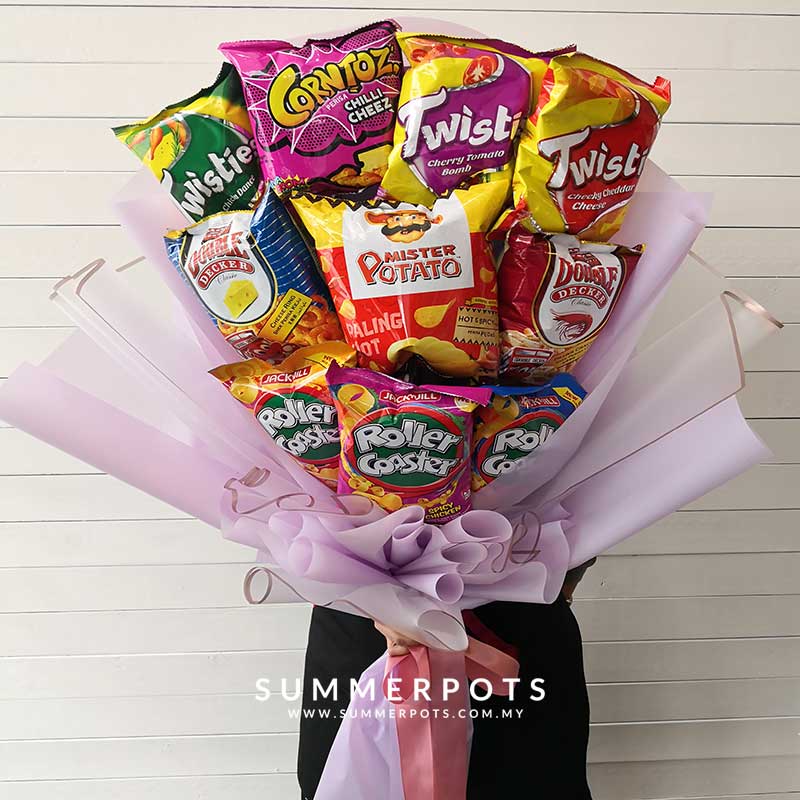 Don't you think this is one of the most practical (and mouth-watering) gifts you can ever give to a graduate? It is not only suitable for both genders (that definitely save plenty of your time thinking what is more suitable for him or her), but gifting an edible bouquet will surely be one of the most tummy-warming, thoughtful, unique, and insta-worthy gift your graduate would be delighted to receive! Well, it might remind them of the happy moments snacking in the lecture hall. ;)
Click here to know more about the featured snack bouquet.
2. A Delighful Veggie Bouquet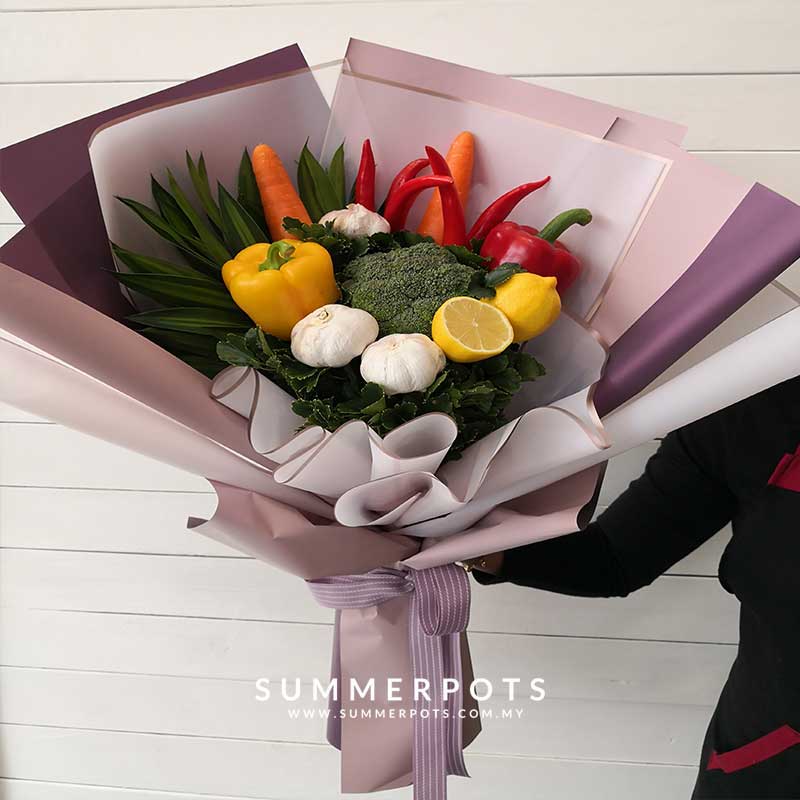 Want to opt for a "healthier" bouquet? Why not go with a veggie bouquet? Adding fruits and vegetables to flowers or making a totally edible bouquet is a great way to add more variety to a gift they've seen before. Veggies are brightly coloured and the shapes and textures do create a gorgeous addition to your standard bouquet. Also, look at that instagramable edible arrangement and aesthetically pleasing wrapping details definitely worth lots of wefies together with your beloved graduate! What's more, is that veggie bouquet also simply delivering a heart-warming blessing of good health.
Click here to know more about the featured veggie bouquet.
3. An Adorable Smiley Ping Pong Bouquet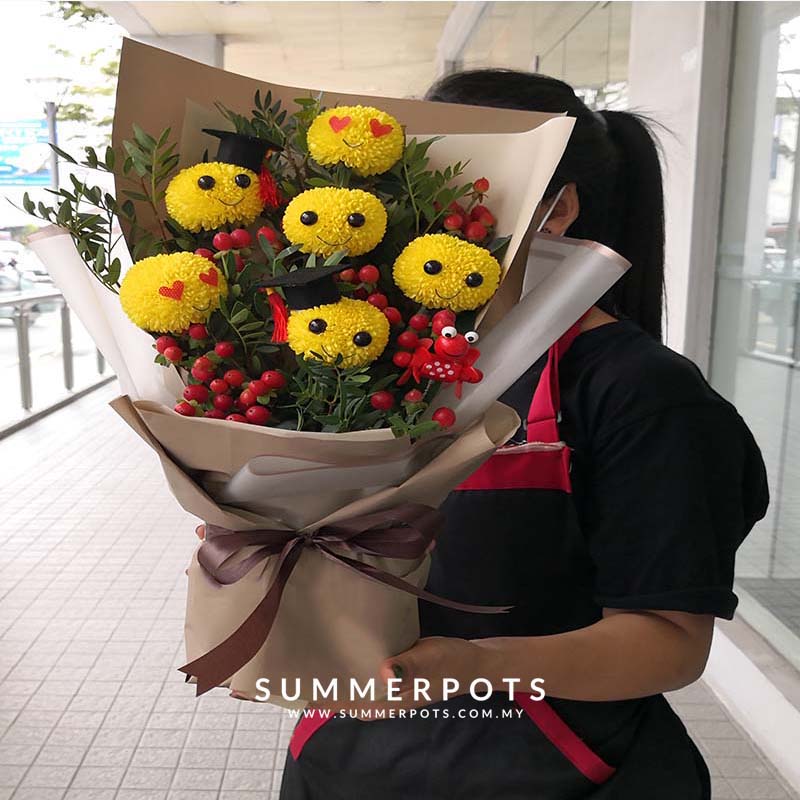 What's even cuter than a handcrafted smiley ping pong bouquet? This has been a huge trend lately as graduation gift all over Malaysia! Does looking at the petit smileys with graduation hat on reminds you someone you adore? The smiley ping pong is the most joy-inducing element in this bouquet and it also simply conveying a message of positivity and encouragement which will bring a smile to your graduate after joyful tears!
Click here to know more about the featured smiley bouquet.
4. An Eye-catching Money Bouquet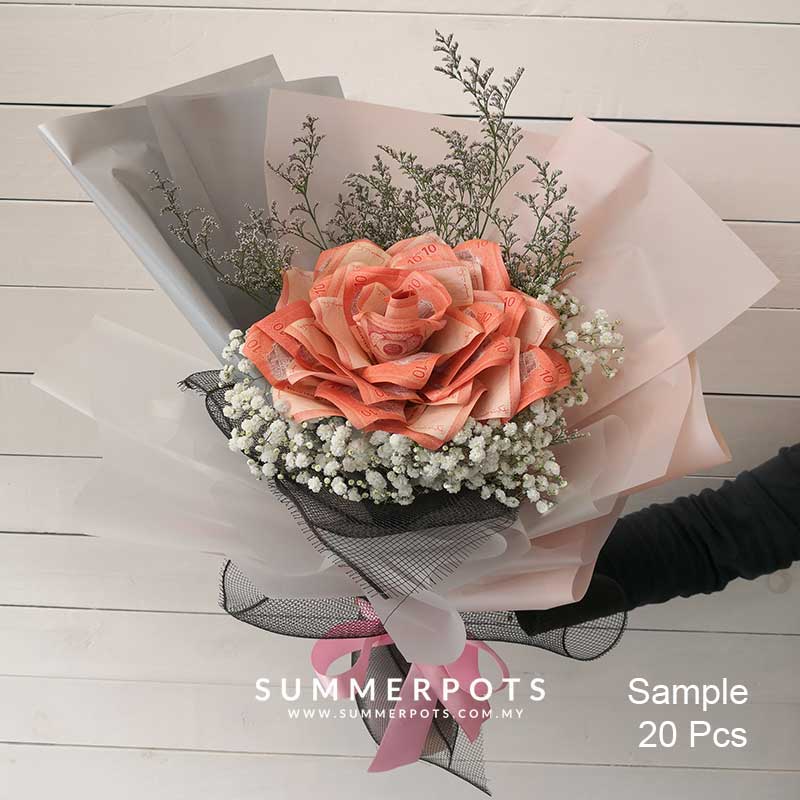 Looking at the current economic condition, finding a job may be hard for a fresh graduate, and finding for one that is relevant with reasonable pays is even harder. The fact that they have to survive throughout the period of seeking a desirable job position creates another burden to them as they have to watch out with a tight budget. So, here is another practical gift that could well be the best graduation gift for your graduate! Gifting money bouquet not only could be an interesting alternative to fresh flowers, eye-catching, and definitely put up a wide grin, but it could ease a little on the daily expenses when they are looking for a job. How meaningful could this bouquet be?
Click here to know more about the featured money bouquet.
You will never go wrong with these unique graduation bouquet gift ideas. Place your trust in KL's top flower experts! Contact us today to discuss further on how Summer Pots could help you to make this occasion a memorable one! No worry, we deliver nationwide to make sure your blessings reached to the one you dear.
For all the graduates, we'd like to extend our warmest congratulations and best wishes for your next adventure! Remember to tag us on Instagram @summerpots.com.my because we love to witness and share joyful moments.
For more unique bouquet for him or her, do visit Summer Pots official web.